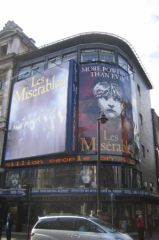 Situated on the corner of Shaftesbury Avenue and Wardour Street, it is hard to believe the Queen's Theatre is the near-identical twin of the Gielgud just a few yards away.
The exterior modern glass-fronted window seems so different from its twin. Both designed by W.G.R. Sprague, the Queen's was bombed during the 2nd World War in September 1940. Much of the front facade and the back of the stalls were destroyed. The interior however with the red, white and gold auditorium, with domed ceiling and Louis XVI-style plaster ornamentation creates an elegant Edwardian atmosphere.
It took 20 years before it was finally restored by Architects Bryan Westwood and Hugh Casson. The Queen's Theatre reopened in July 1959 with John Gielgud in The Ages Of Man. In 1966, Noël Coward returned to the West End after a 13-year absence and starred alongside Irene Worth and Lilli Palmer in a trio of new plays. These were the final stage appearances of Coward who died not long after his dear friend Marlene Dietrich's both in 1972.
During the '70s and '80s the Queen's became the home of successful plays such as Otherwise Engaged, Old Country, The Dresser, Single Spies and Shadowlands.
In 2000 Andrew Lloyd Webber and Bridgepoint Capital purchased Stoll Moss Theatres Ltd and as a result, the Queen's became part of the Really Useful Group. It reopened with sell-out production of The Seven Year Itch, followed by The Mysteries.